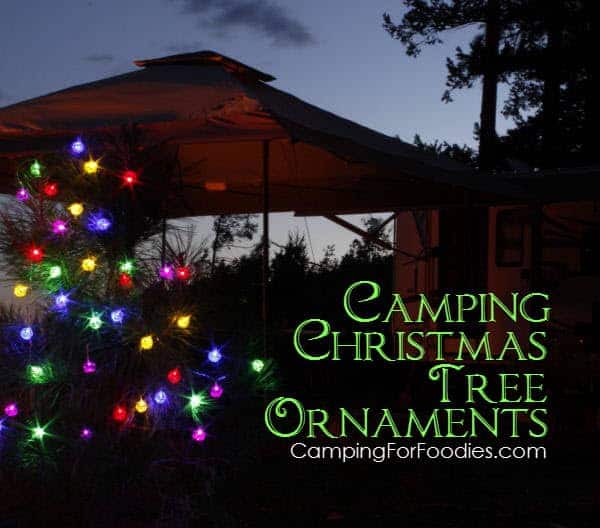 RV Camping Christmas Tree Ornaments
Whether you are decorating for a mobile adventure, staying stationary in your RV or celebrating the holiday at home, these totally unique RV camping Christmas tree ornaments are a fun way to celebrate the season! Our favorites include camp activity themes: RV trailers, tents, campfires, marshmallows, wildlife, lanterns, camp coffee, hiking, cooking, fishing and more! Check out the non-traditional ways to display them too! Psst we're compensated…see our disclosures.
---
In a Hurry?
Note:

These images are "clickable" so if you want more information, pricing or want to get it fast … please click on the image.
If you want to know why we love each one of these RV Camping Christmas Tree Ornaments … please scroll down and read on.
---
Don't Forget The Christmas Music! That's Christmas To Me by Pentatonix is one of the best selling Christmas albums! It will get you in the mood to decorate and celebrate!
&
&
---
Display Options For RV Camping Christmas Tree Ornaments
Decorating Tip: Keep in mind the type and size of your tree as well as the number of ornaments it can accommodate. If you choose a small stand or tree, you may need to stick with small lightweight ornaments.
---
A tabletop stand is a simple way to tuck decorations in small spaces like unused countertop corners and shelves. But, these will restrict you to fewer numbers and smaller styles of RV camping Christmas tree ornaments.
&
Silver Ornament Stand Ornament
22″ Regent Mini Ornament Tree
20″ Metal Ornament Display Tree
&
---
Tabletop trees are nice to display your ornaments because you can avoid using valuable floor space in your RV but still get the feel of a more traditional tree. Some styles can be partially disassembled too; because tabletop trees are small, they are relatively easy to store throughout the year along with your RV camping Christmas tree ornaments.
&
Vickerman Cheyenne Tabletop Tree, 24-Inch, Pine Green
Darice Christmas Artificial Pine Tree on Wood Base, 24-Inch
&
---
Taller slim trees are perfect if you want a bigger display area for your RV camping Christmas tree ornaments! Depending on your space available, you can use them inside your RV or even outside under the protection of an awning or other shelter from the weather.
&
4-1/2-Foot Prelit Artificial Pencil Tree
Affordable, Collapsible 65
&
---
I like using Battery Operated String Lights when decorating inside our RV because I don't worry about power availability (we love boondocking in National Forests!) I use a clear white-colored light if I am trying to achieve a more sophisticated looking tree with classic ornaments … I use multi-colored lights with whimsical camping Christmas ornaments for a more festive feel.
Battery Operated Blossom LED String Lights
Battery LED Multi-Colored Flower String Lights
&
---
I also love decorating natural trees at our campsite (you know, the real ones still living in nature) because they are no-fuss when the camping trip is over. Just "un-decorate" the tree and … BOOM … you're done! No packing required except for the decorations which, in my case, are Solar Powered Outdoor String Lights that are designed to be used in the elements.
LED Solar String Lights
Globe Solar String Lights
&
---
Why We Like These RV Camping Christmas Tree Ornaments
---
NATURAL MATERIAL ORNAMENTS: These camping Christmas tree ornaments are made from natural materials like metal and wood which sets the tone of an outdoor nature-type style with your decorations. They are also relatively sturdy for packing and travel.
Tin Vintage Camper
Campfire Birch Tree Wood Slice
Tent Birch Tree Wood Slice
Metal Vintage Camper
&
---
KEEPSAKE ORNAMENTS: A minimal display of camping Christmas ornaments can be a beautiful way to celebrate the season on a small scale. A tabletop stand is the perfect way to highlight a single keepsake ornament, like this Precious Moments, or a small group of them.
Precious Moments, Happy Camper Porcelain Ornament
Hallmark 2012 Keepsake Ornament, Happy Campers
Hallmark 2014 Keepsake Ornament, Happy Campers
Hallmark 2016 Keepsake Ornament, Happy Campers Lantern
Hallmark Keepsake Ornament, Peanuts White Water Adventure
&
---
GLASS ORNAMENTS: The bad thing about glass camping Christmas tree ornaments is their fragile nature … not the best thing for packing and traveling. The good thing about glass ornaments … they are full of color, reflect the lights on your tree and sparkle! It's a personal preference to use glass ornaments or avoid them. Just for the record, the Camping S'more Squirrel is THE hottest glass camping Christmas ornament this year!
Camping S'more Squirrel, Glass
Camping Lantern, Glass
December Diamonds Tropical Camper, Glass
Kurt Adler Camping Trailer, Glass
Camping Tent, Glass
Class C Motorhome, Glass
RV Travel Bus, Glass
Pop-Up Camper, Glass
&
---
RESIN AND POLYSTONE ORNAMENTS: Ornaments made from sturdy materials, like resin and polystone are good for travel and packing when it comes to RV camping Christmas tree ornaments. Consider the size of your tree as well as your storage space for packing your ornaments throughout the year. Because ornaments are irregularly shaped, we loosely categorized them by size; you can get the exact dimensions by clicking on the product links.
---
Small-Ish Ornaments
Backpack
Hiking Boots, Compass & Map
Canteen
Beer Cooler
Fishing
S'Mores Fishing
Gone Camping
&
---
Medium-Ish Ornaments
Male Camper Roasting Marshmallow
Pop-Up Tent Family
Bears In Tent
Camo Binoculars
Kurt Adler, I Love Camping
Happy Camper Trailer
&
---
Large-Ish Ornaments
Campers Roasting Marshmallows
Glamping Teardrop Trailer
Retro Camper Trailer
&
---
WHIMSICAL ORNAMENTS: We love the character in these camping Christmas tree ornaments. With a touch of humor added to camping activities, these ornaments are bound to put a smile on everyone who sees them … even the Grinch!
Santa's Feet From Tent
Hiker Girl
Tent Camping
Vintage Trailer Ornament
Happy Campers
RV Trailer
&
---
RV CAMPER TRAILER SHAPED ORNAMENTS: For some reason, people who camp in RV travel trailers really like ornaments that look like RV travel trailers! LOL 😅 RV Christmas tree ornaments come in all sorts of shapes, colors and fun RV designs from vintage classics to crazy cute cartoon-ish styles. Here are a few that are really popular!
Vintage Santa Camper
Vintage Camper Ornament
RV And Teardrop Camper Set
Home Sweet Home Camper Trailer
Christmas Camper
Happy Campers Caravan
&
---
A really fun way to celebrate the holiday is with a gingerbread Christmas ornament trailer! You can do everything by hand/from scratch or use a Christmas Gingerbread Camper Kit that has pre-baked camper panels along with the icing and candy ornaments all in one box!
&
Christmas Gingerbread Camper Kit
Camper Pre-Baked Panels
Build/Decorate It Yourself Camper
&
---
Thinking of doing some gift giving for Christmas? Check out our Christmas Gifts For Campers And RV Owners: 100+ Ideas For This Holiday Season post! We update this post daily with the best-selling camping Christmas gifts of the season!
&
---
There are so many cool little camping gifts you can give as stocking stuffers and you won't believe how many of them start under $10 (some even under $5!) 😍 For some totally awesome gift ideas you gotta check out our 100+ Camping Stocking Stuffers For RV And Tent Campers post!
&
---
Thinking you might want to do a little DIY camping gift holiday giving? Check out our Campfire Hot Cocoa post! It's warm, yummy and makes a thoughtful, inexpensive and unique Christmas gift for people who love to camp!
&
---
Get Fun Camping Wrapping Paper And Creative Gift Wrap Ideas here!
&
---
No time to look for recipes, create a menu and write a grocery list? No Problem! Get our 3-Day Dutch Oven Camp Menu Plan here!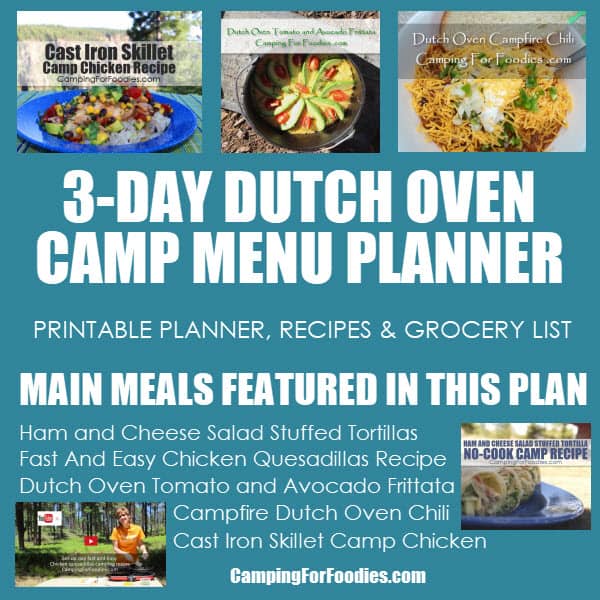 ---
Our Cool Camping Products Make Great Gifts!
Tote
Cutting Mat
Mat Set
Shaker Set
Apron
Hammock
Women's Tee
&
---
If you need camping recipes and menu ideas, you can find them here at the Camping For Foodies Camping Recipes list.
Don't miss a thing…sign up for Camping For Foodies email updates!
Your purchase of our products will help support World Vision ® Building a better world for children.
The post RV Camping Christmas Tree Ornaments appeared first on Camping For Foodies.