Finding unique gifts for the dad who has everything can be a problem. This year Father's Day is Sunday, June 16, 2019 and we have tons of unique gift ideas for guys who love camping with special interests like: solar off-the-grid tools, Dutch oven cooking gear, games, cool gadgets, funny gag gifts, RV and tent camping gear and more! And, don't forget to wrap your Father's Day camping gifts in a fun way too! Psst we're compensated…see our disclosures.
Awesome Ideas For Father's Day Camping Gifts
---
Dad won't stop thanking you for giving him this "I'm Unplugging" Hammock With Attached Accessory And Carrying Bag for his Father's Day gift! On his own special day … and, throughout the rest of the year, he will be able to kick back, relax and have easy access to his favorite book, drink, phone and sunglasses … in the hammock's attached accessory bag … so he never has to get up from this ridiculously comfortable hammock! Check out the video to see it in action!
&
---
In A Hurry? These are the most popular camping gifts for Dad this year! 🎁💗😎
HitchSafe Key Vault
HellFire BBQ Gloves
Shaker Set
Solar Charger
USB Charging Camp Stove
Sasquatch Soap
GPS/Heart Rate Watch
Hammock
&
---
Meet Dad's Special Interests With The Perfect Father's Day Camping Gifts
---
Looking for unusual Father's Day camping gifts that are fun and quirky? Our Unique Camping Gifts For Men post has awesome camping gift ideas like electronic gadgets, vehicle accessories, safety and tactical gear, personal grooming tools, campfire gizmos, camp kitchen equipment and other stuff for guys who like to hike, hunt, fish, cook or just relax on camp trips. This is an epic hand-selected list compiled by my husband who always says, "You just don't know what you can't live without!" 😉 These are sure-to-please camping gifts dad will love to receive!
&
---
Got an RVing dad who loves his rig? You need to check out the RV gifts for dad in our Gift Ideas RV Owners Will Be Crazy About post. For the life of me, I can't figure out why every guy seems to love the Taz "Back Off!" Spare Tire Cover. Um, actually, I really do understand why they love it. LOL 🤣 It's just one of the cool Father's Day gifts for RV camping dads in that post.
&
---
If you have guys who love tools on your Father's Day camping gifts list, you just hit the jackpot! You'll find lots of options for his road trip travel tool box! The inspection mirror with LED lights is one of the most popular camping gifts dads get downright giddy over! Check out our entire RV Tool Kit Checklist post (by the way, our FREE printable RV Tool Kit Checklist is there too)! 🔧🔨
&
---
Some dads like to totally unplug on camping trips while others like to use their phones and other electronic devices in the wilderness. The Goal Zero Torch 250 Flashlight With Integrated Solar Panel is a crazy cool gadget that has a built in solar panel that powers the light and can charge dad's phone! It is one of many options for awesome Father's Day camping gifts in our How To Charge Your Phone Without Electricity While Camping post. ⚡
&
---
Dutch oven cooks are easy to buy for because there are sooooooooo many cool tools for Dutch oven cooking! If you are thinking about camping gifts dad would love using while making his signature Dutch oven camp meal, you need to check out our Camp Dutch Oven Accessories post. The Rapid Fire Chimney Starter is one of those ridiculously popular Father's Day camping gifts he can use when cooking with his Dutch oven as well as grilling over charcoal briquettes! 🔥
&
---

Does your dad hate dealing with bugs at the campsite as much as we do? Check out our How To Keep Bugs Away While Camping post for bug-free camping gift ideas for Father's Day! The Repeller Devices and Mosquito Repellent Pest Control Lanterns are super popular this year! 🦗🌟
&
---
Playing games is a big part of family camp trips for big kids (dads … LOL 🤣) and little kids too! The Champion Sports Rubber Horseshoe Set is a really popular game for campers because it is lightweight, easy-to-transport and uniquely portable … plus, it is one of those camping gifts dad can share with the entire family! To see more camping game gifts for Father's Day, check out our Camp Games: Prove You Are A Super Hero Camper post. ⚾ 🏸🏈
&
---
Got a camping dad who is into clean energy and likes to hike? He'll get a charge out of receiving a Solar Charger Backpack as one of his Father's Day camping gifts! Get it … "get a charge" … ok, so I'm not a stand-up comedian! But, he really will love this gift! There are tons of epic solar gadgets that make great camping gifts dad will love in our Solar Products For Camping post.🌞
&
---
Is your dad more of a basic American flag kind of guy or a Personalized 'This is How We Roll' Flag man? There are so many options for flag and spinner Father's Day camping gifts in our Flag Your Camp With Cool Camping Spinners And RV Flags post. He'll love marking his territory with one of these flags! 🎏
&
---
Most camping dads are also grilling dads! They just seem to take over as "head chef" when the camp meal is cooked over the flames of a grill! Two of the most popular Father's Day grilling gifts this year are the Deluxe Grill Set which has a convenient carrying case for transportation to the campsite and the 3-in-1 Folding Grill Tools that is perfect for MacGyver grilling men types! You'll find tons more Father's Day BBQ gifts in our Campfire Cooking Equipment You Can't Live Without post! 🔥
&
---
Does your dad ever set-up or tear-down camp in the dark? If so, he will be one of the THOUSANDS of guys who love this INSANELY POPULAR and super bright LED Headlamp! It is one of the most practical Father's Day camping gifts you can give him … and, he will love it! 💝 We have a wide variety of campsite lighting gifts for dad in our Best Camping Lights For Lighting Your Campsite post.
&
---
Personalized gifts are always extra special and make really unique Fathers Day camping gifts for dads! The Personalized Pakkawood Handle Engraved Pocket Knife is a really popular gift this year. Not only is it a great looking knife with dad's name engraved on it … it also is a really useful tool for around camp and at home! We have tons of other ideas for Father's Day camping gifts in our Personalized Camping Gifts For RV And Tent Campers post.
&
---
There is a reason the Coleman Road Trip Propane Portable Grill is one of the most RIDICULOUSLY POPULAR Father's Day camping gifts for 2018! These things collapse down to fit into most car trunks, run on 1-pound propane cylinders and are legal to use during fire restrictions! It is just one of the totally awesome camping gifts for dad in our How To Camp When Camping Fire Restrictions Are Activated post.😊
&
---
When dad is camping off-the-grid and after-dark lighting is a bit of a challenge … he will be really happy you gave him a Cooler Light as a Father's Day gift! This LED light turns on when you open the cooler lid and off after the lid is closed for 20 seconds … automatically! Come to think of it, he'll be using this cool little camping gadget no matter where he is camping! Get more unique ideas for camping gifts dad can use in the outdoors in our Go Dispersed Camping post.
&
---
Thinking dad may enjoy a gift for two? Our Camping Gifts Couples Will Love post has tons of cool gift ideas for couples who camp together! The Mr. and Mrs. Can Coolers Koozies are fun for the campsite and Fathers Day camping gifts for him to share with the love of his life! 💞
&
---
Generators are pretty expensive and the requirements for them are different for each camping situation so unless dad has a specific generator on his "camping gifts wish list", you probably want to stay away from giving him one for Fathers Day. What is a better option from our Best Quiet Generators For Camping post is this Power Inverter. 🔌
&
---
If your dad is a total newbie to tent camping, he might need some basic gear to get him started. You'll find lots of ideas for Fathers Day camping gifts for him in our Camping Gear List For First Time Campers post.
&
---
For guys who are new to RV camping there are tons of little gadgets that will make great Fathers Day camping gifts for him in our RVing Tips For Beginners: Enjoying The Maiden Journey post.
&
---
Don't forget to wrap your Father's Day camping gifts in a fun way too! Check out our Fun Camping Wrapping Paper And Creative Gift Wrap Ideas post for inspiration!
&
---
Fathers Day Camping Gifts Timing
Father's Day is the third Sunday in June so give yourself enough time if you are giving dad personalized Fathers Day camping gifts or if you are not going to be with him in person and you will be sending camping gifts for him across the miles!
---
Need More Camping Gift Ideas? Check Out These Posts!
---
Need Camp Cooking Tips And Recipes? Check Out These Posts!
---
No time to look for recipes, create a menu and write a grocery list? No Problem! Get our 3-Day Dutch Oven Camp Menu Plan here!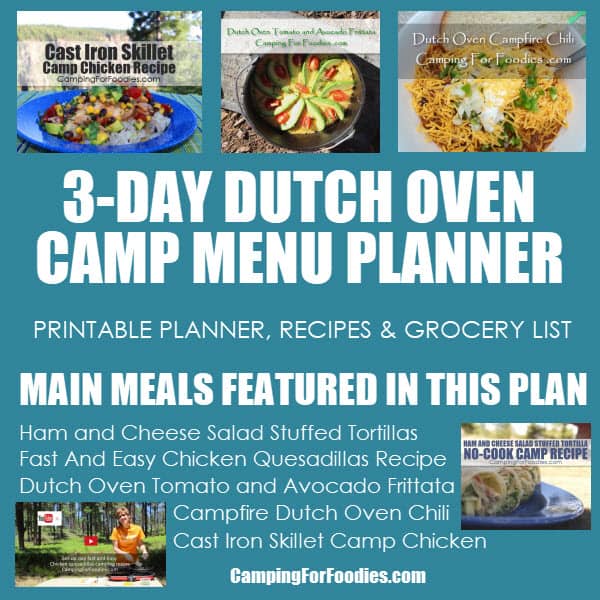 ---
Our Cool Camping Products Make Great Gifts!
Tote
Cutting Mat
Mat Set
Shaker Set
Hammock
&
---
If you need camping recipes and menu ideas, you can find them here at the Camping For Foodies Camping Recipes list.
Don't miss a thing…sign up for Camping For Foodies email updates!
Your purchase of our products will help support World Vision ® Building a better world for children.
The post Awesome Ideas For Father's Day Camping Gifts appeared first on Camping For Foodies.